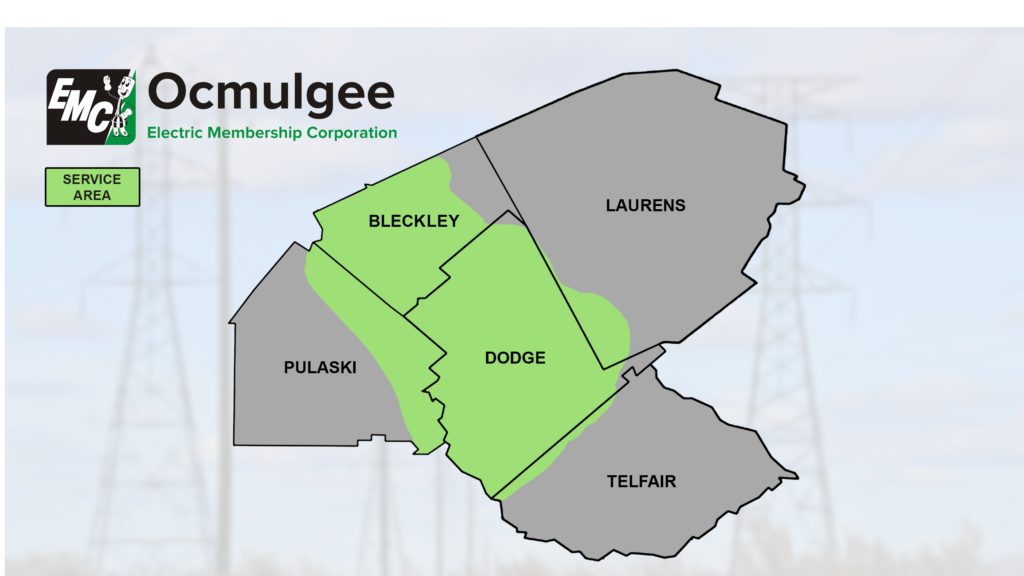 Capital Credits & Refunds
Capital Credits
Unclaimed Property
Capital Credits
Ocmulgee is organized as a cooperative, owned by its members. As a cooperative, Ocmulgee does not earn profits. Instead, any revenues and other income over and above the cost of doing business during a given year are considered "margins." A percentage of the margins are allocated to each member of the cooperative who bought power from the utility during the year they were earned. Each retail member earns the same percentage on their purchases, although the actual dollar amount so "credited" will vary from members to member because it is based upon total individual annual purchases. Each member's annual credit allocation is accumulated and totaled over the period of time that the member continues to receive service. Margins are treated as capital contributed by the membership to the cooperative to help reduce the cost of borrowing and hold down rates. Margins are used for a variety of operating and capital costs and are typically repaid in the future to the members of record for the year in which they were earned. Once a year, a notice is published in our monthly newsletter explaining how much capital credits will be allocated to the members. An allocation is not the same as stock or cash. Allocated credits are typically paid to the members in cash over time through a process called capital credits retirement. The Ocmulgee board of directors usually considers a retirement of capital credits annually. When a capital credits retirement is authorized by the Board, both the dollar amount and year(s) to which the allocations relate are specified. Current member equity refers to the dollar value of a member's allocation – but not yet retired – capital credits. Immediate payment of a deceased members capital credits is permitted to allow timely settlement of the estate. If you want to submit such a claim for payment come by our office and bring a copy of the death certificate along with a copy of the probated will, if one exist, showing the executor of the estate. If you need additional information or assistance, send e-mail to Billing at rmckinnon@ocmulgeeemc.com. 
Unclaimed Property
Interested in a career at Ocmlgee EMC? Contact us for details & current openings.
About Operation Round Up
Operation Round Up Application
About Operation Round Up
Ocmulgee EMC was formed in 1938 and since then we have been dedicated to helping the people in our service territory. We do this by no only providing affordable electric service to our customers, but also by our active involvement in important community endeavors. Now with Operation Round Up, an innovative program that provides financial assistance to worthwhile activities and worthy individuals in our service area, we can share a simple and rewarding way for Ocmulgee EMC members to help support our community. Each month the electric bill of participating members are rounded up to the next highest dollar amount, and that extra change, anything from a penny to 99 cents, goes into the Operation Round Up fund administered by the Ocmulgee EMC Foundation Board. The average contribution is just 50 cents a month. That may not seem like a lot, but with a majority of Ocmulgee EMC members participating, Operation Round Up is able to do a world of good. The funds are used to help qualifying charitable/community organizations with specific needs that they have and to help people in need of assistance. All donations are tax-deductible and members will receive a summary of contributions at year's end. Decisions about the disbursement of funds are made by a 7-member board, the Ocmulgee EMC Foundation Board of Directors. The members of this group evaluate the applications for assistance and make final decisions on funding requests at the regular meetings. They serve as volunteers and receive no pay or other compensation for their time and efforts. For more information about Operation Round Up, please call 478-374-7001.
Operation Round Up Application
History
Ocmulgee EMC is proud to be part of the nationwide network of electric cooperatives organized under the Rural Electrification Administration. In 1930 most rural Americans had no electric power because it cost more than profit-minded, investor-owned electric companies would pay to construct power lines so far to serve so few. The improving standard of living enjoyed by city dwellers never reached beyond the city limits. And then a little known federal government program, the Rural Electrification Administration (REA), paved the way for rural Americans to build their own electric utility companies. Unlike investor-owned electric power companies interested only in profits, REA financed cooperatives were to be owned by the people they served and operated on a non-profit basis.
The organization of Ocmulgee Electric Membership Corporation was a result of a meeting held in the Dodge County Courthouse, which authorized H. H. Burch, J. W. Studstill, W. H. Mullis, Jack Jones, Eugene Wilcox, Mrs. A. J. Lowery and Mrs. E. M. Harrington to proceed with the organization of a cooperative for the purpose of bring electricity to its members, and to make an application to the REA for funds with which to construct an electric distribution system.
The organizers presented their petition to the Judge of Dodge Superior Court, Judge Eschol Graham, on March 29th, 1938, and after advertisement, a Charter was granted by the Superior Court of Dodge County, Georgia on May 9th, 1938. The first meeting of the incorporators and Directors after incorporation was held in the office of Will Ed Smith in Eastman at 2 p.m. on May 11th, 1938. At that time, by-laws were adopted and the following were elected to membership: H. H. Burch, J. W. Studstill, W. H. Mullis, Jack Jones, Eugene Wilcox, Mrs. A. J. Lowery, J. G. NeSmith, Mrs. E. M. Harrington and W. F. Daniels. They were the first Directors.
The first officers were H. H. Burch, President; J. W. Studstill, Vice-President; Mrs. A. J. Lowery, Secretary and W. H. Mullis, Treasurer. J. B. McCrary Engineering Company of Atlanta was employed as the cooperative's engineer. Lines were staked in Dodge, Bleckley and Pulaski Counties; and maps were drawn by that company.
Rights-of-way easements and applications for membership had been solicited since the time of the organization. The membership fee was $5.00, which was a lot of money in 1938. At first it was difficult to get people to sign easements. A great many people did not want electricity, some refused because they were afraid of electricity. Others felt that all this money being collected would be gobbled up in expenses of organization and solicitation of membership and right-of-way.
The original application for a loan, along with maps showing the location of the lines to be constructed, was carried to the REA in Washington in an automobile at the expense of Dodge County. The County Commissioner, W. D. McCranie, was always interested in progressive programs on behalf of the people in the county. His son, W. C. (Bill), drove the car and was accompanied by J. W. Studstill, Will Ed Smith and H. H. Burch to Washington.
At the second meeting of the incorporators and directors held on July 29th, 1938, it was announced that an allotment of a loan of $163,000.00 would be made by the REA to the cooperative for the purpose of constructing approximately 157 miles of line in Dodge, Bleckley and Pulaski Counties. The loan would be repaid in monthly installments over 25 years with an interest rate of 2.73%. Coffee Construction Company, of Eastman, Georgia, was awarded the construction contract at a cost of $81,500.00.
The months seemed to drag by, but finally poles and wire was strung across the countryside. On December 24, 1938, Ocmulgee EMC energized 12 miles of power lines connecting 24 rural homes and farms, forever changing the lives of rural families in middle Georgia.
Because of our organizers vision and the hard work of those who followed them, Ocmulgee EMC electric energy has made it possible for rural families in our area to enjoy a higher standard of living. Today Ocmulgee EMC has more than 6,800 members and has energized more than 1,650 miles of power lines.