About Green Power
Green Power FAQ
Green Power EMC Prices - Terms and Conditions
Outdoor Lighting
About Green Power
Through Green Power EMC, we give YOU the power to help the environment. Since 2003, our nonprofit corporation has offered customers of participating Georgia electric cooperatives the opportunity to support cleaner, renewable energy to supply a portion of their electric needs Green Power EMC utilizes "green" resources such as biomass, solar, wind, and water to generate electricity. We were the first in Georgia to invite our consumers to choose how some of their electricity is produced. Since inception, Green Power EMC has generated over 137,786,825 kilowatt-hours of green energy, providing the same environmental benefits as taking 136,618 cars off Georgia roads, or planting 194.680 acres in trees. For more information visit www.greenpoweremc.com
Consumers will have the opportunity to purchase 150-kilowatt blocks of green power at $4.00 per 150-kilowatt block from Ocmulgee EMC. If you are an Ocmulgee EMC customer and are interested in purchasing Green Power call 478-374-7001.
Green Power FAQ
Green Power EMC Prices - Terms and Conditions
Outdoor Lighting
Energy Efficiency In The Kitchen
Refrigerator/Freezer
Range/Oven
Dishwasher and Disposer
Microwave
Refrigerator/Freezer
Set the refrigerator temperature between 36 and 40 degrees Fahrenheit, the freezer no lower than 0 degrees Fahrenheit.
Open the doors as seldom as possible, closing them quickly.
Cool foods to room temperature before placing them in the refrigerator unless otherwise noted in the recipe.
Defrost manual refrigerators when the frost is ¼ inch thick.
If you do not need a second refrigerator, then unplug it and have the door removed.
Keep condenser coils clean.
Keep the freezer portion full. This will help you to retain cold air as you open and close the door.
Make sure you get everything out the first time you open the door. This will help to eliminate unnecessary door openings.
Range/Oven
Dishwasher and Disposer
Microwave
Billing & Payment Options
Understanding Your Electric Bill
Sample Bill
Troubleshooting Your Bill
Rates & Fees
FAQ
Sample Bill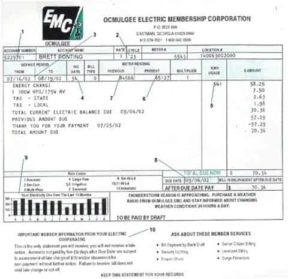 Account Number: Uses a unique member number with a suffix for different accounts. 
Cycle: The monthly billing is divided into 51 cycles. Each cycle lasts for about 30days. Your cycle begins the day your meter is read and ends the day before your meter is to be read.
Service Period: Shows what time period your bill covers.
No. Days: The total number of days for which current charges are assessed.
KWH Usage: This is the total kilowatt-hours used this current month.
Present Reading: The latest kilowatt-hour reading that was recorded by the meter reader.
Previous Reading: Last month's kilowatt-hour meter reading.
Due Date: The date your bill is due for services rendered without late charges.
History: Track your electricity use over the last 13 months.
Delinquent Information: Important information concerning late payments and cut-offs.
For additional information or assistance, contact Customer Service. 
Troubleshooting Your Bill
Rates & Fees
FAQ
Drop-off
Mailing
Senior Citizens
Levelized Billing Program
Drop-off
Physical Location: 
5722 Eastman Street 
Eastman, GA 31023
Mailing
Senior Citizens
Levelized Billing Program
Apply For Service
Transfer Service
Disconnect Service
Account Maintenance
Apply For Service
To Apply for New Service
Go by Ocmulgee EMC's office. You will be asked to provide the following:
Proof of identification
Social Security Number
Provide a mailing address
Bring directions to location needing service.
Sign membership application
Pay $5.00 membership fee and $15.00 processing fee (Note: An additional security deposit may be required)
Interested in our security lighting options? Contact us.
Transfer Service
Disconnect Service
Account Maintenance