About Green Power
Through Green Power EMC, we give YOU the power to help the environment. Since 2003, our nonprofit corporation has offered customers of participating Georgia electric cooperatives the opportunity to support cleaner, renewable energy to supply a portion of their electric needs Green Power EMC utilizes "green" resources such as biomass, solar, wind, and water to generate electricity. We were the first in Georgia to invite our consumers to choose how some of their electricity is produced. Since inception, Green Power EMC has generated over 137,786,825 kilowatt-hours of green energy, providing the same environmental benefits as taking 136,618 cars off Georgia roads, or planting 194.680 acres in trees. For more information visit www.greenpoweremc.com
Consumers will have the opportunity to purchase 150-kilowatt blocks of green power at $4.00 per 150-kilowatt block from Ocmulgee EMC. If you are an Ocmulgee EMC customer and are interested in purchasing Green Power call 478-374-7001.
Green Power FAQ
Q. What is "green power?"
A:  Green power is electric energy produced by renewable, more environmentally friendly sources, leading to less negative air, water and natural resource impacts. Typical technologies used to create green power are solar, wind, geothermal, biomass, and low-impact hydropower.
Q: What is Green Power EMC?
A: Green Power EMC is a group of member-owned electric cooperatives in Georgia who have joined together, creating a non-profit corporation, to facilitate procurement and marketing of electricity from cleaner, greener Georgia sources. The most-environmentally friendly power ever created in Georgia will be added to the member-cooperatives power mix, and offered to members on a subscriber basis as a power option that will enable them to contribute to a cleaner environment.
Q: What technology source will provide the largest source of green power for users?
A: In the start-up stage of Green Power EMC, existing methane gas from landfills will provide the largest source of cleaner energy. Over 300 landfills in Georgia have been researched, with 10 being classified as excellent candidates-the first and lowest cost to develop.
Q: What are the components of a landfill gas system?
A: A landfill gas to electricity system has three basic components: a gas collection system, which gathers the gas being produced within the landfill, a gas processing and conversion system, which cleans the gas and converts it into electricity, and interconnection components.
Q: What exactly are the environmental benefits of this "green power"?
A: EMC green power projects would have the same environmental benefits as any one of the following: taking 144,000 cars off the road, planting 156,000 acres of forest, annually displacing the use of 312,000 tons of coal; or avoiding the use of 1,211,500 barrels of oil each year.
Q: What will be the cost of this environmentally friendly energy?
A: The cost for green power will be slightly higher than that created from usual sources due to the cost of the technologies involved. The extra cost is a small price to pay for the environmental benefits for generations to come. Only those members who subscribe will pay the additional cost. Ocmulgee EMC will be selling green power in blocks of 150-kilowatt hours. The cost will be $4.00 per 150-kilowatt hour block purchased.
Q: I understand this is the first such program in the state of Georgia. Do other electric utilities outside of Georgia offer this program?
A: More than 80 utilities offer similar programs throughout the U.S. including electric membership cooperatives in Indiana, Pennsylvania, Minnesota, Mississippi, Tennessee and the West. Environmental groups who are working together to help the nation move toward cleaner air and water initiatives support in President Bush's National Energy Plan and Congressional draft legislation, as well as green power programs. The electric membership community is excited to be able to present this new initiative to its members, many of whom have requested such a program.
Q: How will I know that this "green power" is actually being run into my home?
A: The renewable energy that you will be purchasing is not directly routed to your home, but by subscribing you are helping to support the purchase of additional clean energy and encouraging more investment nationwide in environmentally friendly ways to generate power. For every environmentally friendly kilowatt-hour purchased by cooperative members, one less kilowatt-hour is being purchased from other less environmentally friendly sources such as coal-based energy.
Green Power EMC Prices - Terms and Conditions
View documents by clicking HERE
Outdoor Lighting
Outdoor Lighting starting at only $9.75 per month.*
Feel more secure and protect your home or business by using outdoor lighting. For just pennies a day you can have an outdoor light that operates from dusk till dawn.
The light will automatically cut on and off by use of a photoelectric cell. Furthermore, you have the peace of mind that Ocmulgee EMC will service your light if anything should happen to it.
For more information call one of our Member Services Representatives at (478) 374-7001.
Energy Efficiency In The Kitchen
Refrigerator/Freezer
Set the refrigerator temperature between 36 and 40 degrees Fahrenheit, the freezer no lower than 0 degrees Fahrenheit.
Open the doors as seldom as possible, closing them quickly.
Cool foods to room temperature before placing them in the refrigerator unless otherwise noted in the recipe.
Defrost manual refrigerators when the frost is ¼ inch thick.
If you do not need a second refrigerator, then unplug it and have the door removed.
Keep condenser coils clean.
Keep the freezer portion full. This will help you to retain cold air as you open and close the door.
Make sure you get everything out the first time you open the door. This will help to eliminate unnecessary door openings.
Range/Oven
Only use pots and pans that fit the heating units.
Use a flat bottom pan with a tight fitting lid.
Don't preheat the oven unless the recipe calls for it.
You do not always have to preheat when you are broiling.
Use a timer and try to avoid opening the oven door before the food is done.
Plan meals ahead so that several foods can be cooked at one time.
Use a pressure cooker, it can save energy and shorten cooking time.
Dishwasher and Disposer
If you use only a few dishes a day, run the dishwasher only once a week. Washing a full load of dishes uses less water than washing them all by hand.
Use cold water to pre-rinse dishes in the sink.
If available, use energy saving cycles.
Let the dishes air dry.
Only use cold water in your garbage disposer.
Microwave
Use when reheating leftovers.
Use to thaw out foods when time does not permit natural thawing.
Use the microwave oven in place of the conventional oven whenever possible in the summer because the microwave does not heat up the kitchen.
Billing & Payment Options
Understanding Your Electric Bill
Sample Bill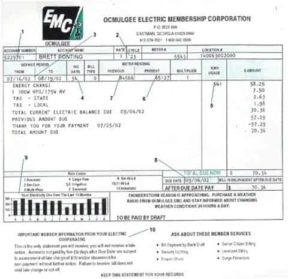 Account Number: Uses a unique member number with a suffix for different accounts. 
Cycle: The monthly billing is divided into 51 cycles. Each cycle lasts for about 30days. Your cycle begins the day your meter is read and ends the day before your meter is to be read.
Service Period: Shows what time period your bill covers.
No. Days: The total number of days for which current charges are assessed.
KWH Usage: This is the total kilowatt-hours used this current month.
Present Reading: The latest kilowatt-hour reading that was recorded by the meter reader.
Previous Reading: Last month's kilowatt-hour meter reading.
Due Date: The date your bill is due for services rendered without late charges.
History: Track your electricity use over the last 13 months.
Delinquent Information: Important information concerning late payments and cut-offs.
For additional information or assistance, contact Customer Service. 
Troubleshooting Your Bill
Look at your last 12 months kilowatt hour history. The graph provided on your current bill can be helpful or you can call Ocmulgee for help. 
Check to be sure exactly what charges are included on the bill. Are there other charges beyond electric service? Have arrears been added to the total? Are there miscellaneous charges added to the bill? Any security light charges? How about returned check charges, financing charges, etc.?
Check the number of days of usage. Is the number of days greater than other months in question because of meter readings cycles? 
Check your daily kwh average. Divide the kwh usage by the number of days in the billing period. Compare it to your average daily usage over the past several months. 
The meter measures energy usage. Remember that a short in the wiring will cause the meter to turn. There is no such thing as a "creeping" meter. If it moves, something is using electricity. Direct all of your attention away from the meter as the culprit. It is seldom the cause but often blamed. Less then 2 out of 1,000 meters are going to be wrong when tested. This includes running slow or running fast. Most old meters will likely run slow.
Rates & Fees
FAQ
Q. What do I do if my bill is higher-than-normal?
A. If you receive a bill that is higher than normal, the first thing to look for is how many days of service were in the billing period. Calculate your daily kwh usage for the current month by dividing the kwh usage by the number of days in the billing period, compare it to your average daily usage over the past several months. If it's significantly different, stop to think if you have added a major appliance or altered your lifestyle in some way that would account for the change. Also compare the meter reading on your bill to the reading on the meter.
Q. How can I be certain my bill is correct when it fluctuates?
A. While most residential electric accounts follow a typical pattern of seasonal usage, occasionally a customer will experience a higher than normal or lower than normal bill. In the average home, over forty percent of the energy bill goes to heating or cooling. This makes the amount of your bill very sensitive to changes in weather. Sudden fluctuations can indicate a problem with equipment in your home.
Q. Why is there a $10.00 base charge, even if I don't use any electricity?
A. While most of the costs associated with purchasing electricity and delivering it to your home are built into the rates for each kwh you consume, the fixed costs associated with providing electrical service, which reoccur every month, are recouped in the form of a base charge. These fixed costs include the electrical system such as poles, wire, transformers, and meters, as well as reading your meter and processing, printing, and mailing a monthly bill.
Q. How am I charged for a security light?
A. The monthly fee for your security light includes all energy consumed by the light and any maintenance required. Since the light is connected directly to Ocmulgee EMC primary power lines, the energy used by the light does not affect your home's energy bill and is not registered on your home's meter.
Q. I did not receive my bill this month, what should I do?
A. You should receive your bill approximately thirty days apart. If you do not receive your bill near the normal billing date, please contact our Customer Service Department, as we cannot be responsible for delays or misdirected mail by the postal service. As stated on the bill this is the only statement you will receive, you will not receive a late notice. Accounts not paid by 5 days after Due Date are subject to disconnect for non-payment without further notice. 
Drop-off
Physical Location: 
5722 Eastman Street 
Eastman, GA 31023
Mailing
Mailing Address: 
P.O. Box 669 
Eastman, GA 31023
Senior Citizens
The Senior Citizens Billing program was developed so that our members over the age 62 could begin receiving their electric bills in a more timely and convenient manner relevant to the receipt of their income. Members who are at least age 55 and are receiving fixed or disability income may also qualify. Under this program, you will receive your electric bill(s) on or around the first of each month. As before, bills will be due and payable within 10 days of the billing date.
You can apply for the Senior Citizens Billing Program by calling Ocmulgee Electric, or by dropping by our office. You will need to provide us with a voided or cancelled check. 
Levelized Billing Program
The Levelized Billing Program is a special averaged payment plan, which provides participating customers with a more predictable bill that fluctuates less throughout the seasons. By knowing the approximate amount of your electric bill each month, budgeting becomes easier.
To qualify for the program a customer must have an Ocmulgee Electric billing history in good standing under his or her name at the current residence for at least 12 months. Levelized Billing program participants will have their meters read monthly and receive monthly bills; however, the amount billed will be based on a 12-month average, including the current month. Billing by this formula does not reduce your total cost for electricity, but rather evens out the wide fluctuations caused by higher energy use in the summer and winter.
Participation in the Levelized Billing Program may be discontinued at any time by the customer and may be discontinued by Ocmulgee Electric if a bad payment record develops or if the account has a returned check. Upon cancellation of the Levelized Billing Program, the account will be adjusted for any deferred balance or credit.
You may apply for the Levelized Billing Program by calling Ocmulgee Electric, or by dropping by our office. 
Apply For Service
To Apply for New Service
Go by Ocmulgee EMC's office. You will be asked to provide the following:
Proof of identification
Social Security Number
Provide a mailing address
Bring directions to location needing service.
Sign membership application
Pay $5.00 membership fee and $15.00 processing fee (Note: An additional security deposit may be required)
Interested in our security lighting options? Contact us.
Transfer Service
To Transfer Service to new residence
Call, go by Ocmulgee EMC's office. You may be asked to provide the following:
Proof of identification
Pay $15.00 processing fee
Disconnect Service
To Disconnect Service
Call, go by Ocmulgee EMC's office. You will be asked to provide the following:
Proof of identification
Date of Disconnect
Forwarding address for forwarding of any outstanding bill and/or return of deposit.
Account Maintenance
You may modify information (such as your billing address, email address and telephone number) on your account by contacting us.